2023 d-max: the gift that keeps giving
2023 D-Max takes the Isuzu range to a new level. Our latest generation utes have the power, off-road ability, and grunt to take on the big jobs. But, with a load of tech and interior upgrades, it also ensures its passengers are comfortable while doing them. 
With increased power and torque, it retains the durability that has firmly established the D-Max as one of the toughest utes in New Zealand.
The D-Max comes in four variants and fifteen configurations. There's single, space and double cab, as well as a variety of deck options and also 2WD or 4WD. So you'll find a D-Max to suit your lifestyle.
The new generation D-Max is more refined than before and loaded with technology, making your ride more comfortable. Not only is it comfier, but it's also now bloody safe. Our D-Max achieved the maximum 5-star ANCAP safety rating across the entire range, making it the safest ute range in New Zealand.
So what're you waiting for? Click the button below to order your D-Max online, or fill out the form to book in for a test drive.
BOOK a tEST DRIVE
GO ON, BE A GOOD BASTARD
tough DESIGN
 The new-generation D-Max combines its signature toughness with a new level of refined style. Whether you're on a worksite, navigating the city or ruling off-road, it's tougher than ever.
5-star SAFETY
The new-generation D-Max with its active safety features has achieved the maximum 5-star safety rating, making it the safest ute in New Zealand.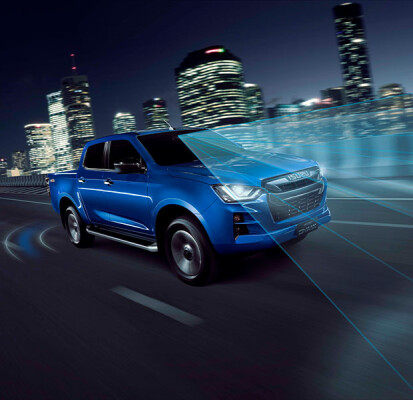 more comfort
Your Isuzu D-Max is more than just a ute to get from A to B. It's your mobile office, your place to relax, and your passport to adventure.
the D-MAX range
see what the press are saying: