LS Double Cab SAFETY
One of the safest vehicles on new zealand roads
Redefining the standards for safety, the All-New Isuzu D-Max is the first vehicle to be tested in Australasia against the new stringent 2020 ANCAP testing and rating criteria—achieving a maximum 5 star safety rating across the entire Isuzu D-Max range.
In September 2020, Australasian's leading independent vehicle safety authority, ANCAP SAFETY published a 5 star safety rating for the All-New Isuzu D-Max, praising it for re-establishing "the safety benchmark for the competitive ute segment."
"The D-MAX rating has been highly anticipated by fleet and private buyers, and re-establishes the safety benchmark for the competitive ute segment which has traditionally tended to lag that of passenger cars and SUVs," said ANCAP Director of Communications and Advocacy, Rhianne Robson.
In the official ANCAP statement announcing the maximum 5 star safety rating result, ANCAP commended Isuzu for democratising safety across the entire range, stating that "all variants in the D-Max range – single cab, space cab, double cab, and cab chassis – provide the same high level safety features, technologies and performance as standard."
Isuzu's Intelligent Driver Assistance System (IDAS#), which covers an extensive list of both active and passive safety features, is standard across every D-MAX model. Using state-of-the-art sensors and a stereo camera system, the D-MAX constantly monitors your surrounding environment for danger. Should it detect a collision is imminent, the system will work to help the driver to defuse dangerous situations via alert systems and automated functions.
PASSIVE SAFETY TECHNOLOGY
Careful attention to detail allows Isuzu to deliver higher levels of passive safety features. Safety features like multiple airbags, parking sensors, a reversing camera and automatic lights/wipers provide piece of mind under all situations.
AUTOMATIC LIGHTS & HIGH BEAM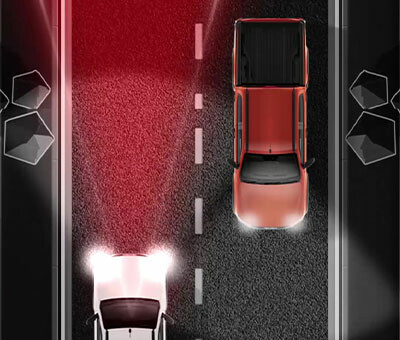 Day or night? Rain or shine? The new D-Max takes a few of the little inconveniences under its wing like automatic light control.  including a light sensor that turns headlights on or off depending on the time of day and will control headlight beams if oncoming traffic is detected.