Isuzu LX Space Cab Chassis Ute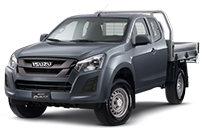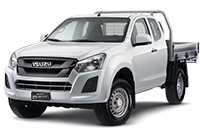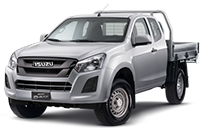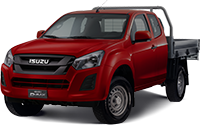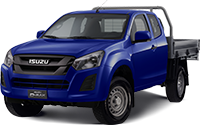 LX Space Cab Chassis 4WD
Combining impressive styling and ISUZU engineering innovation with a refreshed design. The Isuzu D-Max LX Space Cab has a distinctive new look with an aggressive front grill design, with a 7" touchscreen and reversing camera. The D-Max LX Space Cab offers inspired versatility, excellent fuel efficiency, power when it's needed most and first-rate durability completing it's evolution into a truly modern vehicle, equally comfortable moving people as it is moving loads.
FEATURES
Clam Shell Doors
The side access panel on the D-Max Space Cab provides excellent access to the area behind the front seats, making loading into this area a breeze. The rear door can be opened from the inside or the outside, making its use very easy. It is equipped with an "inter-lock", which prevents it from being opened unless the front door is opened first, making it safe, especially if travelling with children in the rear.
More Features
Rear Folding Seats
The D-Max LX Space Cab has a dynamic back seat area with hard-wearing fabric fully folding rear seats and under seat storage.
Steel Wheels
The D-Max is tough from it's grill to it's tailgate, so it's only fitting that the LX Space Cab has 16" drilled steel wheels to get the job done, combining fuel efficiency and reliability.
See What they've got to say...
ACCESSORIES