Isuzu MU-X 7 Seater SUV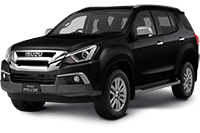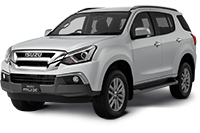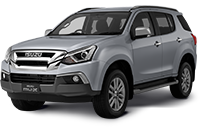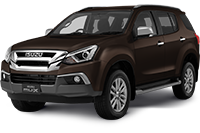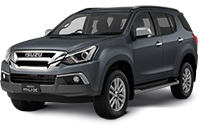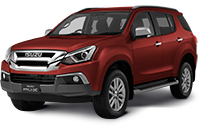 MU-X 7 Seater SUV
Introducing the Isuzu MU-X SUV, developed to stand out and stand apart in every aspect. Designed with extra attitude, expressing the true interpretation of an SUV, combining a luxurious versatile cabin and excellent all-terrain performance. Enjoy the passenger car-like driving experience you have come to expect from today's modern SUV's, but with a robust 4WD drive-train mated to one of the world's most reliable diesel engines, the MU-X will deliver you the opportunity to est your off-road ability like never before.
isuzu mu-x suv Key features
Room for the whole family
Cloaked behind the sleek exterior lines of the Isuzu MU-X SUV lies a smartly designed interior that creates a wealth of space for all of the family - and then some. There's room for you and a team of six to travel safely, securely and in comfort. Wide door arches make access for passengers a breeze, when exploring your sense of adventure off road there's strategically placed assist grips to help keep you grounded. 
3 Tonne Towing
Whether you're driving around town, out on the open road or towing uphill - the MU-X SUV has a 3 litre turbo diesel engine that makes light of the work, and with a 3,000 kg braked tow rating, towing your boat or trailer has never been easier.
Bi-LED Headlights
The new Bi-LED projector headlamps with Day Time Running Lights (DRL) emphasise the flowing lines of the vehicle, giving an assertive appearance while providing better vision and cutting glare for oncoming motorists.
More Features
isuzu mu-x reviews
isuzu mu-x suv ACCESSORIES
isuzu mu-x suv GALLERY
china silkway rally 2017
The Isuzu motorsports team took part in the China Silk Way Rally, driving from Russia to Kazakhstan and finishing in China.
There were 33 cars that started the rally and only 23 that finished. Of those that started, five were production cars - just like those at the local car dealer which have only been modified for safety - yet only two made it to the end. Out of the remaining two, the Isuzu MU-X finished first with a lead over over 200 hours.